MID-WEST COATINGS SERVICES
MWC offers a full line of Residential and Commercial epoxy floor coating solutions. Using the highest quality materials and installation techniques, the finished product is first class.

Residential
MWC can turn your normal garage into a show room, "Man Cave", or even a party room. Turning your house into a show piece in every room, including the garage says a lot about your class and respect for your home. Each job we do can be sold with a walk through prior to the start date. At this time, colors and conditions get discussed. Logo themes for your favorite team or car builder can be installed in the floor and clear coated over to stay forever. This option is very cool to customizing your garage to the walls and usage you have designed it for.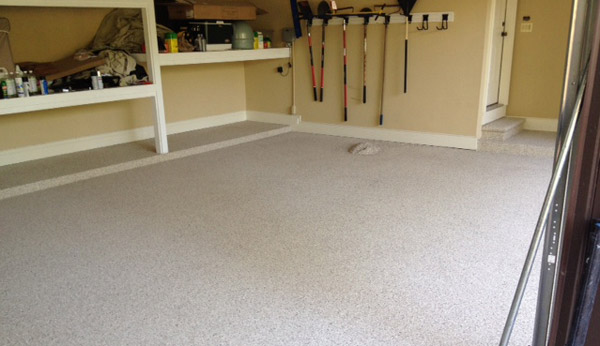 Commercial
MWC specializes in commercial/industrial projects. Turn key coating systems for large square foot areas is something we do non-stop. Our customer service is most important to you. We understand that you need to make money in order to pay for jobs like this. Holidays and weekends as well as shut down work are nothing new to us, so we are willing to schedule to fit your needs. Factories, kitchens, line stripping aisle ways, work areas, labs, fire stations, jails, schools, storage areas, etc. are all perfect for coating. Just give us a call to schedule your Free estimate today.